Autumn is sneaking its way upon us, ladies and gentleman and I, for one, cannot wait. It's my favourite time of year so I'm a little excited and I thought I'd make this post for you in preparation for your back to school shopping spree. How nice of me, eh? If you're interested, here's my Pinterest board for Autumn Fashion (literally, goals). So many clothes, so little money *sad face*. Unfortunately for you guys who read my blog, I know nothing about men's fashion so this post is all about the ladies. Here are three of my favourites:
Oversized jumper, skinny jeans and brogues? Hell to the yes. Oversized jumpers are in right now, so go get yourself one. Or 10. Whatever floats your boat. Luckily for us here in England, or I guess, not so lucky, the weather is gonna start getting cold real fast real soon so that means we get to wear more jumpers (yay!). It seems that every Autumn, the mustard brown colour is also in fashion; reds, browns, blacks, and mustard yellow-browns are the colours to wear this Autumn. You can usually get any oversized jumper from any fashion retailer nearer Autumn, and you can always get black skinny jeans/ jeggings from any fashion retailer at any time of the year. If you get too hot you can always swap the jeans for leggings.  This outfit would also go really well with either brown or black boots/block heels like these (below) and if you're really chilly, get yourself a collared white shirt or collared plaid shirt (long or short sleeves) in any colour to go underneath, roll the jumper sleeves up a little and BAM! perfect outfit.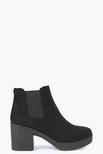 This outfit is also one of my favourites:
Long coats, ok? They're cute. And they're also in fashion right now. You can throw them over any outfit and look effortlessly stylish. Dusters, trench coats and collar coats are adorable. And I need one, especially when the weather gets very cold because I am severely lacking a nice coat. This photo combines a grey top with a grey coat, black jeans and white trainers. But what you could also do is wear black formal joggers instead with a white t-shirt and a black coat. Looks casual, but classy. Duster coats can be knee-length, 3/4 length or ankle length so you can have one for whatever outfit you choose to wear. What's great about these coats is that they are light enough for the weather in Autumn and Spring; they add warmth but don't overheat you.
If you're low on money for a shopping trip, why not winterize or autumnize (just invented that word) your summer closet and try wearing a jumper over your cute summer dress and pair it with tights and boots? In fact, you can even wear the same outfit twice if you wear doc martens one day, brogues another and maybe wear a scarf the next, and then maybe the next day you wear knee length socks instead of tights. The possibilities are endless. You can recycle old summer dresses without having to hide them away in your wardrobe until next summer. It's a no brainer! And if you're really cold, you could wear an oversized cardigan. I'm a sucker for those, they're just so warm and snuggly. And great for when you have a 2 hour long lecture at uni. Like this:
Go and get planning your back to school outfit if you haven't already 😉 If you want more posts like this, let me know!